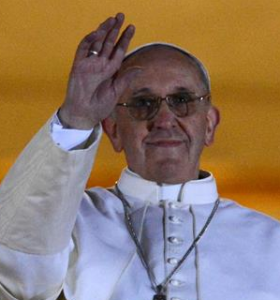 It seems that my comments on Pope Francis have elicited much commentary in return, some of it positive, some of it negative. Some critical comments have to do with the usual Orthodox questions regarding the Roman Catholic Church since the Great Schism of 1054. For my part, we are beyond that, the culture is simply too far gone to concern ourselves with bilateral dialogues regarding the things that separate us.
Perhaps this is obvious to other Orthodox luminaries as well. Patriarch Bartholomew of Constantinople is going to attend the installation of Pope Francis. This will be a first. Curiously, the OCA will send its Primate as well. It's hard to tell how this will play with Moscow. Regardless, the congratulatory letter written by His Holiness Kirill struck the right tone to me in that he addressed Francis as an equal. After all, in our ecclesiology the Bishop of Rome is the Patriarch of the West. (It troubled me when Pope Benedict dropped this title.)
So why has Francis' election spurred such excitement? It's my opinion that Francis demeanor is "Markan," in that he takes his evangelical cues from the Gospel of Mark. The language of Mark is bold, terse, and unabashed. His first sermon was unequivocal. "Either we worship Christ crucified or we worship the devil." There is no in-between. Jesus is the Messiah –any questions? Our times demand such clarity.
For too long have too many Christian pastors spent too many waking hours in "bilateral" and "interfaith" dialogues trying to show their secular betters that the world has nothing to fear form Christianity. We've played World's game according to the World's rules but that hasn't satisfied the World. What the World wants is nothing less than our complete allegiance to the coming Nihilism.
I guess you could say that much work needs to be done. The following is an essay by Fr Hans Jacobse. Please take the time to read it.
P.S. May you all have a Blessed Lent.
Source: AOI Observer | Fr. Hans Jacobse
Several weeks ago I spent a weekend with Catholic and Orthodox scholars in a colloquium titled "Liberty, Society, and the Economy in Modern Eastern Orthodox and Roman Catholic Thought." I am a parish priest, not an academic, which means I approach the big questions from what I call a "rubber meets the road" perspective. I start with the problem or issue that I am thrust into and work out from there. It's real, sometimes messy, and almost exclusively existentialist.
That also meant that I approached the colloquium as a student and did not have much to contribute until how the ideas we discussed applied to everyday people in everyday life. That's the world in which I practice my vocation so that has become my area of expertise.
The practical dimension was welcomed especially by the academics who, as most of us know, can distance themselves from the concrete consequences of ideas and sometimes fail to distinguish the power of one idea over another. It's a professional hazard but then all professions have their hazards including the vocation of the priesthood. That's why we should not only know ourselves (one goal of the Christian life) but also get to know how others see us and clarify how we see others.
This kind of knowledge cannot be attained without sentiments of goodwill and professional courtesy. They were present in good measure and after a half-day or so grew into a mutual respect that made both the formal meetings (we analyzed texts from the Catholic and Orthodox traditions) and informal discussions over dinner, walks to Starbucks and so forth very fruitful and rich.
The Catholics have a very developed intellectual tradition about contemporary issues, more so than the Orthodox because they faced no Muslim Conquest or Bolshevik Revolution, historical events that have held us back. That tradition is impressive although not nearly as airtight as some Catholic apologists would have you believe.
The Catholic Church also has some significant problems and the frank assessment of their causes by the Catholic participants surprised me. I simply did not expect it. To the Orthodox participants the discussion revealed a resilience and strength within the Orthodox Church that we tend to take for granted.
The resilience has to do with how we worship, how the Divine Liturgy is the essential locus of Orthodox self-identity and maintains a unity of faith despite our jurisdictional divisions. We talked about this at some length especially how in our secularized age (I define secularization as the loss of the awareness of the sacred dimension of creation) many people experience deep interior alienation but are also compelled toward authenticity and communion, especially among the young.
The yearning for authenticity and communion is a search for the transcendent and structured worship speaks directly to it. This is one reason why converts to the liturgical churches (Orthodox and Catholic alike) are often conservative in their approach to worship. In a culture where the divine dimension is lost and worship no longer exists, sexuality becomes a substitute. Malcolm Muggeridge said years ago that "sex is the sacrament of the materialist." Ideologically this is true but as a priest I also take a more functional approach. The rampant sexuality we see in our culture is often an attempt to self-integrate and find communion — a reach for the unifying clarity that touching the transcendent promises — although greater disintegration is the inevitable result.
The Catholics at the conference understood the relationship between worship and encounter with Christ but are dogged by theological liberals who still insist that the deconstruction of traditional forms is progress. Time is on their side however since theological and moral liberals don't create children (an abortion mentality applies to ideological progeny as well). They have been unable to raise others in the ideas that they have embraced and new recruits are drying up as the spiritual barrenness of the liberal flanks becomes increasingly evident. They are graying now and in another decade or two they will be gone.
The participants wondered how Orthodoxy, with all its apparent disorganization, can still maintain a uniformity of worship. To us it seems self-evident: worship is the locus of self-identity because that is where the Gospel is preached and where the matrix of faith and morals is brought from the speculative into an encompassing experience that offers knowledge, wisdom, and insight. In sermons I describe it as living our lives not in black and white, but in living color. Anyone who has ears to hear and eyes to see recognizes the power of worship even if only intuitively at first.
I was asked, "What would happen if you changed the Liturgy around?" I answered, "My people would call the Bishop on Monday morning and he would call me on Monday afternoon." They asked, "What would happen if the Bishop changed it around?" I responded, "They would chase him out of town." At that point I was corrected by another Orthodox participant who quoted from one of the Fathers, "They should throw him into the river."
There are several important take-aways from the conference. The first is that Catholic and Orthodox apologetics assume a reality that simply does not exist. All institutions have problems and the both the Catholic and Orthodox Churches have their share of them. I've spent my share of time with Catholic apologists and frankly, I just get tired of it. There is always an answer for everything. Catholics I am sure would express the same exasperation from the other direction.
This is not to say that substantial differences don't exist. Clearly they do. Nor is it to say that every ecumenical encounter must have as its goal some kind of unity. I'm not sure if unity between the Catholic and Orthodox Churches is even possible given present circumstances but even if it were, I'll leave it to others to work it out.
Nevertheless, a unity of sorts was evident and — the second take-away — strengthened. The late Fr. Richard John Neuhaus, a Lutheran convert to Catholicism, wrote years back that the new ecumenicism is the ecumenicism of the Spirit. What he meant was that Christians from Orthodoxy, Catholicism, and Protestantism should be clear about their differences but talk together anyway. We are drawn by the Spirit of God and driven by increasing de-Christianization of the larger culture. "We are more united in the acknowledgement of our differences than in pretending that they don't exist," Fr. Neuhaus correctly said.
Needless to say the participants in the conference were social and moral conservatives — orthodox Catholics and non-progressive Orthodox. We see the same dynamic when talking with Protestants. Authentic conversation with Christians of other communions takes place only when the foundational moral and theological questions are settled.
Again, this does not mean that universal agreement exists. It doesn't. It does mean however, that the path to moral and theological relativism where distinctions are erased and where the authority of the received tradition is reduced to private opinion is closed. Unity at the expense of truth is a collaboration of the confused where the only possible outcome is collapse. We can look to the Episcopalian Church or the National Council of Churches as evidence.
We Orthodox owe something to the Catholics. Catholic leaders have been the clearest and strongest voice in the defense of the dignity of the human person in our increasingly secularized culture. We benefit from their witness. They draw from the moral tradition in ways that that hold our own leaders to account — and correctly so since we hold that part of the moral tradition in common. All Christians, not just Catholics, benefit from their faith and courage.
They also give the American Orthodox Church some breathing room as it finds its way in American society and learns how to bring the Gospel of Jesus Christ into the American ethos. Learning this takes time just as it did in the early centuries of the Church. Orthodox Christianity has much to give secularized America especially to the young who, as I said at the outset, are searching for authenticity and communion.
What are they waiting for? In a word — anthropology. "Anthropology" is a theological term that is derived from the Greek work anthropos or "man." It means that within our Orthodox tradition lies the knowledge of what it means to be a human being particularly how our personhood — the who of who we are — is realized and actualized in communion with the Risen Christ. We Orthodox understand this. Our anthropology is developed. That's one reason why the Church does not fall apart despite our disorganization and historical suffering.
This understanding has to be brought forward and actualized in the American ethos because that is where we live and how we think. This is true of both cradle born and converts (two misnomers because both are adopted in Christ only through baptism) if the ground for human flourishing is to be recovered and tilled. Many are waiting for us. This too was evident at the colloquium.
I've written extensively in the Catholic press about the cultural project that has brought Catholics and Orthodox together on high levels (Pope Benedict and Pat. Kyrill for example) as well as local efforts like the colloquium. One question the Orthodox asked was whether the retirement of Pope Benedict would dampen the work.
It does not look like it will. Pope Francis is faithful to moral tradition and also appears to be courageous (these days there is no faithfulness without courage). He understands the moral crisis in Christendom and appears to be as committed to the restoration of the Christian foundations of culture as his predecessors were. This portends a good future for Orthodox-Catholic relations and will hopefully make more Orthodox aware of the grave crisis facing us.
May God grant him many years.