Metropolitan Jonah is speaking in Texas this weekend on Orthodox unity. Despite all the troubles he has faced in the last months, his vision of a vibrant, evangelical oriented Church is the one embraced by priests and laity who will carry the Gospel of Jesus Christ as it understood in our Orthodox tradition to this great nation.
AXIOS! to Met. Jonah, Mother Gabriella, Fr. Nick Triantafilou, Fr. Meletios Webber, Fr. David Moretti and the other speakers, organizers, benefactors and attendees of this symposium. You understand the vision and are acting on it. You offer hope and direction for the rest of us.
Symposiums like the one below should be received with joy and supported by anyone who understands that the Orthodox do indeed have something to offer America. It should also compel us even more to get our own house in order so we can be faithful to that commission. HT: AOI.
+ + + + + + + + + + + + +
St. Cyril of Jerusalem Orthodox Christian Church
P. O. Box 133234
The Woodlands, TX 77393-3234
Driving directions to St. Cyril Orthodox Church.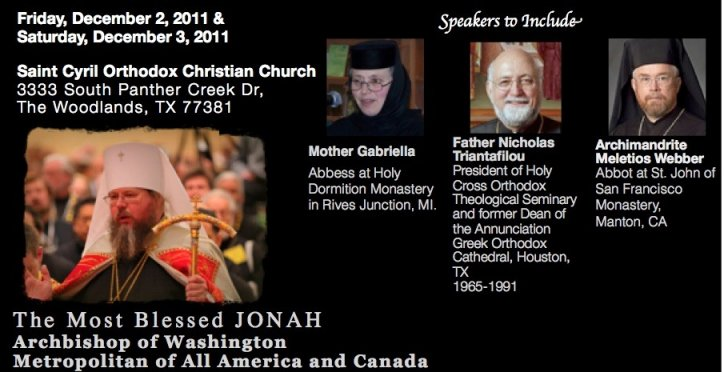 Friday, December 2, 2011

8:00 am – 8:45 am Continental Breakfast
8:45 am – 9:00 am Morning Prayers & Welcome
9:00 am – 9:15 am Opening Remarks
His Beatitude Metropolitan JONAH +
9:15 am – 9:45 am Foundation for Unified Local Orthodox Church According to John 17
Protopresbyter Nicholas Triantafilou
(President Holy Cross Greek Orthodox School of Theology)
9:45 am – 10:15 am Ecclesiology and The Local Church
Cynthia Kostas
10:15 am – 10:45 am Update of Episcopal Assembly
His Beatitude Metropolitan JONAH +
10:45 am – 11:00 am Break & Refreshments
11:00 am – 11:45 am Update of AAC
His Beatitude Metropolitan JONAH +
11:45 am – 12:30 pm Challenges: Canonicity ~ Autonomy and Autocephaly
His Beatitude Metropolitan JONAH +
12:30 pm – 1:30 pm Lunch
1:30 pm – 2:15 pm Challenges: Canonicity ~ Mother Church and Ecumenical Patriarch
Father David Moretti
(Interim Pastor of Saint Cyril of Jerusalem, The Woodlands, TX)
2:15 pm – 3:00 pm Liturgical Challenges ~ Language
Archimandrite Meletios Weber
(Abbot of St. John's Monastery, Manton, CA)
3:00 pm – 3:45 pm Liturgical Challenges ~ Ethnic Traditions
Mother Gabriella
(Abbess of Holy Dormition Monastery, Rives Junction, MI)
3:45 pm – 4:30 pm

Issues of Property Ownership
His Beatitude Metropolitan JONAH +
4:30 pm – 4:45 pm Break & Refreshments
4:45 pm – 5:30 pm Orthodox Youth & the Future of American Orthodoxy
Father Anthony Baba
(Pastor of Saint Anthony, Spring, TX)
5:30 pm – 6:15 pm Orthodox Women & the Future of American Orthodoxy
Mother Gabriella
(Abbess of Holy Dormition Monastery, Rives Junction, MI)
6:15 pm – 6:30 pm

Break: Prepare for Vespers
6:30 pm Vespers

Saturday, December 3, 2011

8:00 am – 8:45 am Continental Breakfast
8:45 am – 9:00 am Morning Prayers & Welcome
9:00 am – 9:30 am Summary Day 1
His Beatitude Metropolitan JONAH +
9:30 am – 10:45 am Conclusions, Summary & Next Steps:
The Role of the Hierarchy
His Beatitude Metropolitan JONAH +
10:45 am – 11:00 am Break & Refreshments
11:00 am – 12:15 pm Conclusions, Summary & Next Steps:
The Role of the Laity
Archimandrite Meletios Weber
(Abbot of St. John's Monastery, Manton, CA)
12:15 pm – 1:15 pm Lunch
1:15 pm – 2:30 pm Conclusions, Summary & Next Steps:
Sustaining the Vision
Protopresbyter Nicholas Triantafilou
(President Holy Cross Greek Orthodox School of Theology)
2:30 pm – 3:30 pm Houston as a Role Model:
Houston Orthodox Clergy Association
3:30 pm – 4:30 pm Houston as a Role Model:
Houston Orthodox Laity
Subdeacon Constantin Ardeleanu & Mark Hunter
4:30 pm – 4:45 pm Break & Refreshments
4:45 pm – 6:15 pm Round Table for Houston Vision for Toward An American Orthodox Church:
* Pan Orthodox Services
* Pan Orthodox Laity Association
* Pan Orthodox Youth Association
* Pan Orthodox Women's Association
* Pan Orthodox Monastic Community
***** Above session to be a round table forum with the purpose of outlining constructive action plan for Greater Houston Clergy Association and its' laity to use as a tool toward Unity!*****
6:15 pm – 6:45 pm Closing Remarks
His Beatitude Metropolitan JONAH +
6:45 pm – 7:00 pm Break: Prepare for Vespers
7:00 Great Vespers