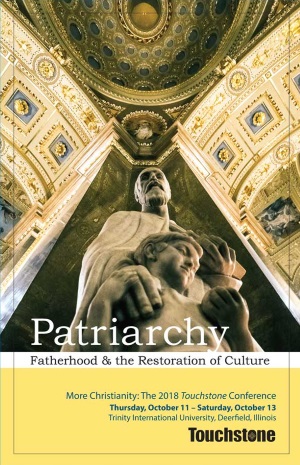 The following talk was given at the 2018 Touchstone Conference on "Patriarchy: Fatherhood and the Restoration of Culture" which drew together speakers from various traditions and disciplines to discuss how the assault on patriarchy is affecting culture.
Below Fr. Hans Jacobse shares his experiences in dealing with young men growing up under these assaults and what is necessary to restore them so that they can flourish.
The conference was sponsored by Touchstone Magazine. See videos of all speakers here.
Conference participants included: Rachel Fulton Brown, J. Budziszewski, Allan C. Carlson, Anthony Esolen, Steven Faulkner, Robert P. George, S. M. Hutchens, Hans Jacobse, Patrick McCaskey, Nancy Pearcey, Leon J. Podles, Patrick Henry Reardon, Glenn Stanton, C. R. Wiley